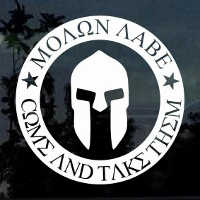 To Michel Cagnan and everyone in any of the La Cagnannaise guilds.
This is a long letter, and I am sorry for that. But please read to the end. It is important.
Since the match fixing in championships has again come under the spotlight, I thought it best to try and speak with you all cordially and try to reach some kind of consensus.
The purpose of this "letter" is not to attack or criticize you. What I hope to do is show you why match fixing is ultimately bad for the game, bad for all the other guilds, AND bad for La Cagnannaise.
Firstly, let me say that I understand the primary motive behind match fixing, because in the old days now long past, Damage Inc. also engaged in match fixing. From a loyalty perspective, there is a sense of camaraderie there; a brother helping a brother. Doing it for the good of the guild. We used to compare it to a bar fight: if my friends were in a fight, I would have their backs every time.
I understand the motive for match fixing here is essentially the same. You want to help each other, have each others' backs and do what you to have to in order to help them against the "enemy". For the cause, for the guild!
But I want to propose a
new cause
. A new way of thinking for us all.
Let me explain.
Stockholm Exiles RUFC recently posted a
topic
on the Bugs sub-forum on the English side, looking for a guild agreement. In it, he complained that "
GCs are getting soooo boring. And it seems Sweet Nitro doesn't give a damn.
" and that "
La Cag is the dominant guild, but probably too much dominant. We miss the strong Damage Inc, the old Spuitpoep, the challenging OoA....
".
He is right. I think all of us who have been playing the game long enough with a good few top level seasons under the belt would have to agree that the game is a shell of what it used to be.
I remember how thrilling guild challenges were in the old days. One after the other, we would meet good, strong guilds like La Cagnannaise, Order of Anarchy, Spuitpoep, Brothers in Arms, Club Twickenham, Webb Ellis, Juggernauts, Sicarii, Terranova, Arena of Champions, Les Potes, WES, ICDG, IFC, Legends in a Tie, Springbok Army, Ball Boys, etc. Some were easier than others but the challenges were always fun and interesting.
What happened to all those other top guilds? What happened to that long list of top players that once played the game and made both the map and the guild challenges so exciting and interesting?
Sadly many great players retired. Some of their teams are still around, but their teams are now run by someone else entirely or they just play maybe 4 or 5 games a season. Many of the teams in the top 3 levels are now run by someone who is running 2 - 3 teams. Some teams are shared and managed by the whole guild.
Why did they all retire?
For sure there would be many reasons, but I can share one significant reason: the game is nowhere near as challenging and exciting as it used to be, and it is
not a fair game
either.
Many great players decided to stop playing the game because it makes no sense to spend money building your team, only to lose out on promotion because of match fixing rings. Paying money to play is one thing and as we know, MANY have been willing to pay to play over the years in this game. But people are
not
willing to pay to be cheated out of promotion. So they stopped playing Rugby Manager and went and spent their money somewhere else.
The loss of so many players has reduced the game to effectively just 5 championship leagues of top level players. That's a total of just 70 top level teams. The majority of those are La Cagnannaise teams, second most are Damage Inc teams. Then there are just a few others from other guilds like Valhalla, AOC, Les Barjots, OoA etc, but these guilds don't have enough top players to be competitive in a guild challenge against either La Cagnannaise or Damage Inc. (and I say that with utmost respect to those players and guilds, this is just a matter of numbers - any guild with 5 top levels will battle to compete against 20 top levels).
Go ahead and have a look at your championship log table if you are at top level. Count how many Cagnannaise teams and how many Damage Inc teams there are. Mine has 7 from La Cagnannaise and 4 from Damage Inc. The other 3 players come from 3 other guilds and those 3 fill the bottom 3 positions on the log table.
This is representative of what the top level is like now. Do you see the problem?
What has this got to do with match fixing?
In 10 rounds so far this season, there have been 53 fixed matches involving La Cagnannaise teams.
What match fixing does is it ensures that all the players from your guild get promotion to top level again for the following season. What it
also
does, is prevents other good, competitive teams from other guilds from getting promotion to top level the following season, though they were good enough and deserved to go through.
What
that
means is that with each season, match fixing keeps more competitive players from other guilds out of top level, which means that every season La Cagnannaise will have boring and uninteresting guild challenges that are too easy.
Sometimes you will come up against Damage Inc, but since your match fixing keeps some of us out of top level as well, even your guild challenges against us will be boring. This very season in my championship, 2 Damage Inc teams will likely be relegated because the La Cagnannaise teams are going to fix the remaining 3 games to make sure their teams at the bottom climb up the log, at the expense of the 2 teams from Damage.
Although it was close at 20-17 last time we met in a guild challenge, overall you still have many more top levels than we do and it is a much easier challenge for you. But is that all you want? A sort of not too bad kind of half interesting guild challenge once per week and the rest boring? What are your guild challenge rules every time? The same old lose 1, win 1? Play 1 to win and then 1 to lose against the cash cow? How boring is that?
Considering the map. How boring is that for you? Since you outnumber every other guild in top levels, the top 20 is majority La Cagnannaise. Since you can't and won't play each other, you only have 4, maybe 5 teams you can play every day on the map. How boring is it to play the same teams all the time?
IN CONCLUSION
I want to put on record that if La Cagnannaise had 100 times more top level players than every other guild combined because they are THAT good and win promotion in their championships fairly every season, then I would have no complaint at all and neither would anybody else. I can say with certainty that if La Cagnannaise achieved this without match fixing, we would all have tremendous respect for all of you and for your guild. We would have to bow to your superior skill and only hope to improve our own strategies so that we can compete with you.
However, that is not the case, and everyone knows it.
Right now, the legacy of La Cagnannaise will always be that the only way you could keep your teams at top level is through match fixing. Without match fixing, La Cagnannaise would be only the second, maybe third best guild in the game.
That is not a legacy I would want.
Now the haters in your guild are going to jump in at this point and scream out something about Damage Inc and the Facebook refunds. They will want to bite back and say that is
the Damage
legacy. Those teams that received bans took their punishment, acknowledged their mistake, and rode out their bans, though some were in fact completely innocent and sadly retired out of anger and frustration.
I hope you understand the motive behind what was done (and it was NOT only Damage Inc teams - teams from various other guilds were also involved). When you are paying money to play the game so that you can advance, only to be cheated out of top level by match fixing, and Sweet Nitro does nothing about it, then paying the money doesn't seem right anymore. So you either stop playing completely and retire, or you find a way to play without paying. That is
exactly
what happened. I am not excusing it, I am merely stating the facts.
BUT, most of those teams who were banned are still here, and they know that we can
still
forge the legacy that we WANT to leave. Hard, competitive, fair players who achieved success in the game through better strategies, rather than arranged matches or cheating of any kind.
I hope you can see that you have a chance still to redeem
your legacy
. How will La Cagnannaise be remembered? Will you be remembered and revered as a strong, fair guild who won through superior tactics on the field, or mocked and laughed at as cowards and weaklings who could only stay at the top through arranged matches? Because that is how you are seen in the game right now by all the other guilds.
I know almost all of you, and I have played almost all of you many times. I know that many of you are very good, strong players in your own right. But even that is not going to be your legacy, because the question will always hang over your head and people will always say: "
without match fixing, he wouldn't have been able to always stay top level
."
Furthermore, would it not make the game much more fun and interesting to play for everyone - including all of you - if the championships were
fair
, and more top level players came through from other guilds? Wouldn't that make the game fun again and encourage more people to play, even old top players to return?
Stockholm Exiles suggested reducing the number of top level teams in each guild to 13 top levels, but this won't solve the problem because it doesn't address the actual root of the problem, which is match fixing. With match fixing, La Cagnannaise would still outnumber all the guilds
unfairly
with more top level players. And the problem of boring guild challenges will continue.
So there it is. You have a choice.
You can ignore all of us and continue to fix matches as you are, of course. Mark my words though, you will continue to slowly kill the game and more and more people will stop playing. And soon, you will have nobody to play against except yourselves. This is happening right now, as more top players from other guilds have already announced they are retiring end of this season because of match fixing.
Or, you can help us make the game exciting again. We can all put away all the things that make us fight, play the game fairly in the
spirit of rugby
, and become the best of friends off the field as brothers all of us, who all share a common love of the game.
That is a better cause to play and fight for.