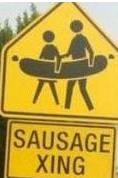 After a handful of missed opportunities, the match up is finally here. It will be a close battle. Who can take down rockhounds? Who can take down Britz? Will we have enough guys to take out Coalition's middle? Hmmmmmmmmm.

The Pro Bowlers will (hopefully) fight honorably. No slider from us! Of course, I can't speak for everyone in my guild, but I did email all of them, and there are only two guys in our guild that I know like to use the slider, so all I can do is beg and plead to not screw it up. Assuming they follow directions (which I'm relatively confident they will do), then it will be an epic battle!

Good thing I have 23 hours and 40 minutes to "prepare" myself. I don't think they can take us. We're just too good! But, as I guess they say...we'll let the action on the field settle this one. Good luck (but not really) to you guys! I hope we don't tragically injure too many of your players...lol.